---
Only legal entities (associations, companies...) can make a request to take back cartridges (Siret, Kbis).
---
There are 3 ways to prepare your shipment, 2 of which allow you to estimate the amount of your sale:
Import an Excel file
Download our pre-filled Excel template, fill it by entering the quantities of your cartridges and then import it directly on our site. The estimation will then be done automatically and will indicate you the estimated rate of return.
Fill out the online form
Our online form allows you to fill in the references of your empty cartridges and thus estimate the amount of your sale.
Make a collection request
Finally, you also have the possibility of making a collection request directly without listing the cartridges in your package. In this case, you will not receive an estimate of the value of your cartridges, and we will pay you directly the final value of the cartridges once the sorting is done.
The recovery rate remains the same regardless of the option chosen.
---
Yes, but only for inkjet cartridges, and as far as is reasonable. Please note that we reserve the right to apply a 2€/kg charge in case of too frequent or overweight shipments.
However, if you wish to submit a suggestion for a reference to be added to this list, please do not hesitate to contact us.
---
No, unfortunately, we do not take back lasers. We invite you to deposit them in a waste disposal center near you. Please note that we reserve the right to apply a 2€/kg in case of too frequent shipments or overweight.
Please do not send any copier cans, ribbons, batteries and other waste, as we would be forced to charge you € 3 per kilo for their treatment.
---
The estimated take-back value is the estimate made on the site before your shipment.
The final valuation also corresponds to this estimate, minus the missing or non-recycled cartridges (i.e. not on our list, or with a visual or electrical defect). This final valuation is specified in the sorting report which is sent to you by e-mail following our conformity control and the sorting of the cartridges.
---
Here are the steps to follow to sell your empty cartridges to Valorink:
Create an account or identify yourself on your customer area.
To create your account, you must fill in your identity, your home address or your head office address, your telephone number, the name of your company as well as your VAT and SIRET numbers. your VAT and SIRET numbers for companies, or check the corresponding box if the company is not subject to company is not subject to VAT, as well as a password that must be personal and secret. We will never ask you for your password, and we advise you not to give it to a third party.
Make a collection request.
Agree to the cartridge take-back terms.
Validate the cartridge return form.
---
If your estimated trade-in price is greater than or equal to 100€, VALORINK will pay the shipping costs. You do not have to pay anything.
If your estimated trade-in price is less than 100€, the shipping costs are at your charge.
---
Yes, it must not exceed 15kg and must respect the dimensions of 39cmx36cmx36cm to be sent with the Chronopost prepaid label. The same applies to other service providers.
package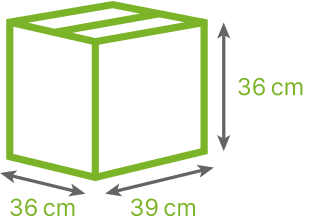 Max box size:

39x36x36cm

. Ideally, use a

double fluted box

that can support a

maximum of 15kg of empty cartridges

.
Pallet size:

80x120cm (max height 120cm)

. Ideally

strapped

or at least

wrapped in plastic film

.
Ideally,

number your boxes

on pallets if there are several (see diagram).
pallet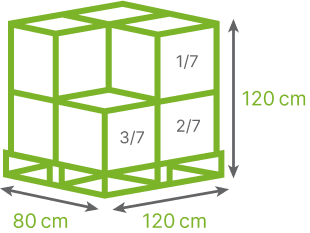 On a pallet, place the laser packages on the bottom (heavier) and the inkjet cartridge packages on the top (lighter).
This prevents the heavier boxes from crushing the packages underneath.
Our objective remains to valorize ever more empty cartridges in compliance and thus the reuse of the latter.
---
Cartridges are fragile and must be handled with care.
Proper packaging reduces the number of defects.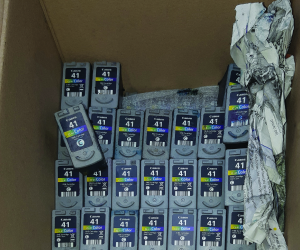 Printheads revalued to your customers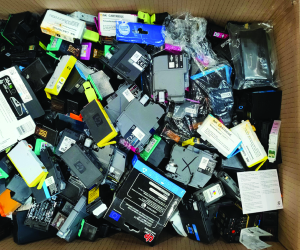 Other inkjet cartridges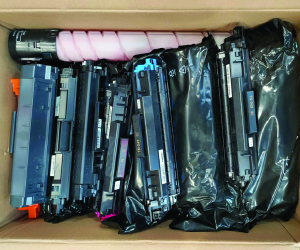 Laser apart (to avoid damaging the inkjet cartridges)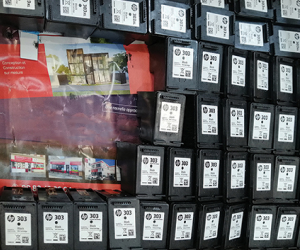 Separation of floors by a cardboard divider
Proper packaging of your cartridges is essential to avoid possible damage during transport. Damaged cartridges will not be returned.
To be sure to respect our recommendations, download the PDF with the best practices for sending your empty cartridges.
---
Upon receipt of your package, ValorInk performs a conformity check and verifies that the number and models of cartridges in your package correspond to your request for return.
ValorInk then proceeds to sort the cartridges. Those that are damaged are then discarded. Finally, ValorInk establishes a sorting report that summarizes:
The total quantity of cartridges received.
The quantity of cartridges taken back and not taken back for each cartridge model when the shipment is listed (shipment solutions 2 and 3).
Unreturned cartridges will not be listed if you choose an unlisted pickup.
---
You will receive your payment within 30 days of the invoice date. Please be sure to send us your invoice as soon as you receive your sorting results so that we can schedule your payment.
---
These cartridges cannot be reused. You tacitly authorize VALORINK to send them to waste treatment channels (material recycling and/or energy recovery). You can also request the recovery of your cartridges within 7 days following the reception of the sorting result. The costs are at your charge.